COVID Worship Protocols
During this global pandemic, we are working hard to create a safe worship environment. When coming to worship in our building please note the following procedures and policies created out of the utmost concern for the safety of our church family.
Safety Measures
In order to provide a safe worship environment we have changed the physical layout of our worship space. The sanctuary is arranged in small clusters of chairs. This is to allow families or bubble groups to sit together in the service safely spaced out from other people. We will provide communion elements, at your seat, for you and/or your group to receive communion together. We are currently limiting the total number of people in our building. Please click on the registration link below to register for the service. All surfaces and rooms are thoroughly cleaned throughout the week before our worship gathering.
Policies
Masks must be worn in our building at all times
Please utilize hand sanitizer stations throughout the building
Please stay at home if you, or anyone in your family, has been exposed to a known COVID-19 case within the past 2 weeks.
Please stay at home if you or anyone in your house has a fever or other known COVID-19 symptoms
Please join us on line for our virtual worship service if you have any health conditions which put you at risk from the Corona virus.
Worship is Vital
Worship is a central part of our family life, here at Duneland Community Church. Our weekly gathering serves as a time of celebration, inspiration, testimony, and encouragement. Each week we gather to sing, offer prayers, share love with each other, proclaim the truths of God, and gather at the Table.
SERVICE TIMES
We gather for worship each Sunday morning at 10 am. You can join us in person or online via our livestream which is available on YouTube, Facebook, or here on our website.
LOCATION & DIRECTIONS
Duneland Community Church is located at 1552 Pioneer Trail, Chesterton, Indiana. We are right behind Strack and Van Til grocery store in the old Pioneer Lumber building. Find us by clicking here.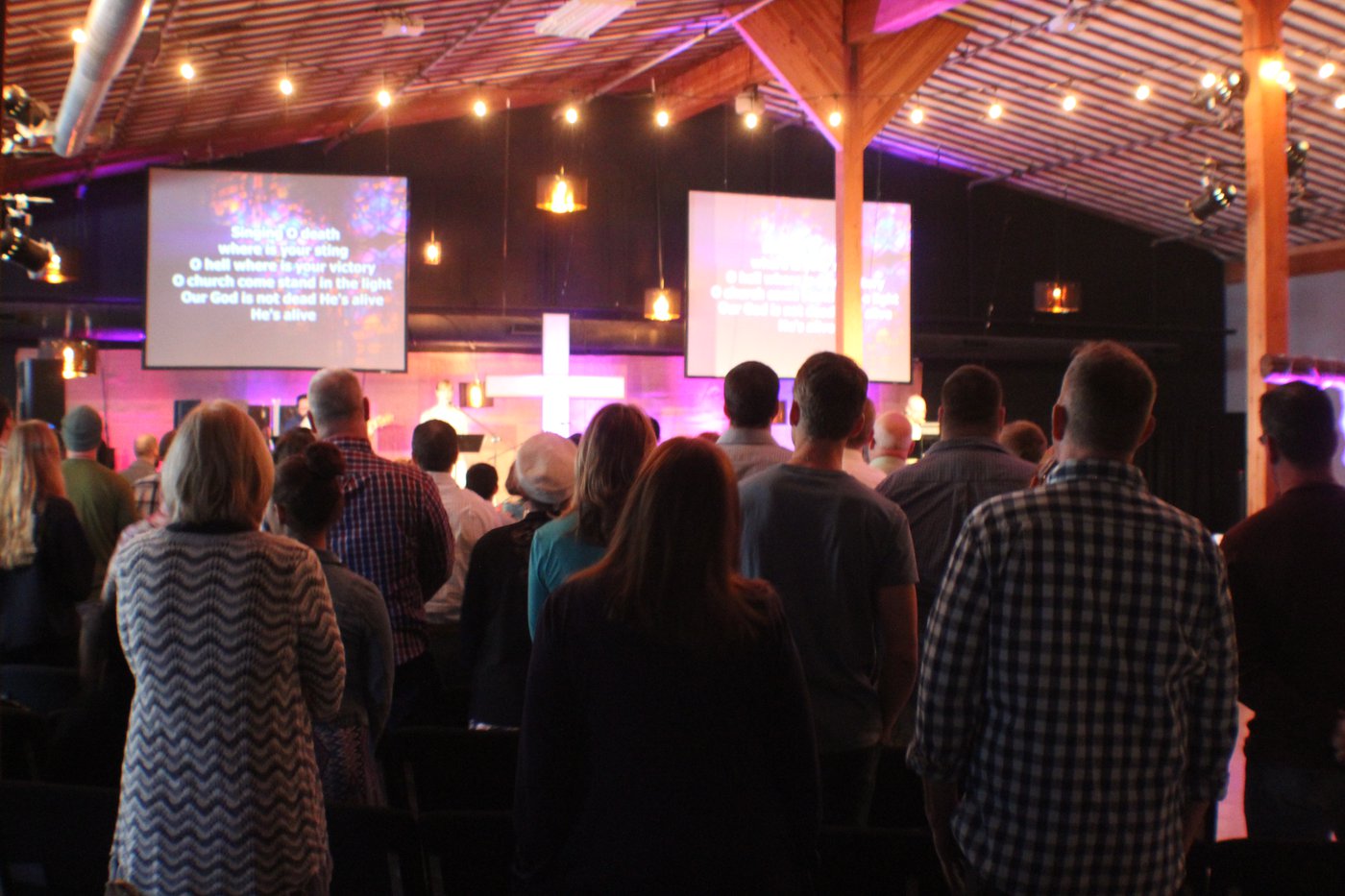 What can I expect?
Our worship is a mixture of ancient and modern. Our music is contemporary. We have a music team filled with gifted musicians and singers who lead us in a variety of different styles of worship music. There will be songs by well known artists such as Hillsong, Chris Tomlin, and All Sons and Daughters mixed in with hymns, and original songs by written by our team.
Our preaching is distinctive. It is always focused on helping to bring the Word of God alive and allowing it to reshape our lives. We vary our preaching series. We often follow the Lectionary, we create original series, and we preach through books of the Bible. We have a team of gifted preachers on our staff who all get regular opportunities to share what God has been speaking to them.
Each week the focus of our worship service is our time gathering at the Lord's Table. We celebrate communion every Sunday. There, at the table, we are reminded of the love of God, our place in his family, and the story we find ourselves in as God's children. Ours is an open table, all who desire to be part of the family of God are welcome to join us.
As we shape our services we are also mindful of the seasons of the Church year. We celebrate Advent, Epiphany, Lent, and Easter. We have special services on Ash Wednesday, Good Friday, and Christmas Eve.
What's the culture like at Duneland?
Our culture is very much rooted in an experience of a loving and welcoming extended family. Our gatherings are relaxed, filled with life, focused on connecting with one another, and very welcoming to those who are new.
What about my kids?
We believe that kids should feel that they have as much ownership and significance in our church family as any other group. We involve them in our worship as much as possible to help them feel at home and seen. This is a huge priority for us. The other thing we make a priority is your children's safety. Because of that, we have a detailed check-in process for our DCC Kids classes. You'll want to leave yourself an extra ten minutes to get signed in for the DCC Kids and to make sure we can help your kids feel at comfortable. Hope Kids is offered at every DCC worship service, for kids ages infant through Grade 4.
Let us know you're coming
If you would like to find out more about our worship services, or introduce yourself before you come, we'd love to welcome you! Fill out the form below and one of our team members will contact you to answer whatever questions you might have.